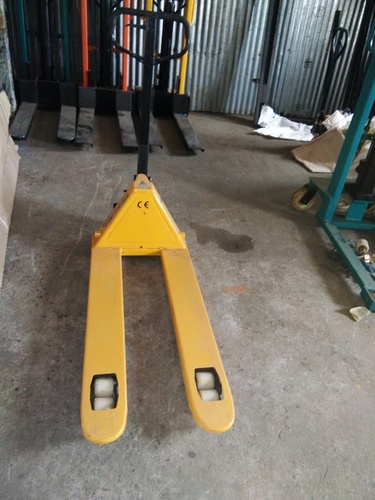 Hand Pallet Truck
Product Description
We are Involving In Manufacturing Hand Operated Manual Pallet Truck In Tirupur Districts for Using Heavy Load for Easy Handling. By Using this Hydraulic Pallet Truck we can shift heavy loads one side to another side with hassle Free.
Features:
Load Capacity - As Per Your Requirement
Delivery - As Per Our Commitment
Very Reasonable Price
We are mainly dealing listed products are Pallet Truck, Hand Pallet Truck, Stainless Pallet Truck, Hydraulic Pallet Truck, Low Profile Pallet Truck, Heavy Duty Pallet Truck, 4 Ton Pallet Truck, 1800 MM Pallet Truck, Hydraulic Hand Pallet Truck, High Lift Pallet Truck, Roll Hand Pallet Truck, Goods Lift, Winch Type Goods Lift, Hydraulic Goods Lift, Goods Lift, Cage Model Goods Lift, Cabin Model Hydraulic Goods Lift, Goods Elevator, Manual Hydraulic Stacker, Cotton Bale Stacker, Die Loader Platform, Goods Lift With Single Gate, Pallet Truck, Hydraulic Pallet Truck, Wiver Beam Trolley, Beam Trolley, Pallet Trolley, Sewing Machine Lifter, Wrap Beam Lifter, Pallet Truck, Hand Trolley, Hydraulic Jack Trolley, Hydraulic Crane, High Lift Pallet Truck, Stainless Pallet Truck, Manual Hydraulic Stacker, Semi Electric Stacker, Bale Lifter, Hydraulic Stacker, Hydraulic Hand Stacker, Drum Stacker, Electric Stacker, Battery Stacker, Drum Lifter, Drum Lifter, Hydraulic Drum Lifter, Drum Handler, Drum Dollies, Drum Trolley, Drum Stand, 4 Wheel Drum Trolley, Hydraulic Drum lifter, Manual Drum Lifter, Hydraulic Hand Lift Drum Lifter, Semi Electric Drum Lifter, Portable Drum Lifter, Electric Hoist, Hydraulic Material Handling Equipment, Scissor Lift, Portable Cranes, Jib Crane, Drum Trolley, Fork Type Drum Trolley, Platform Trolley, Weavers Beam Lifter, Machine Lifter, Die Loader, Drum Lifter Cum Tilter, Drum Handler, Industrial Lifting Equipment, Industrial Elevators, Industrial Lift, Industrial Elevators, Platform Truck, Turn Table Platform Truck, Plywood Platform Truck, JET Pallet Truck, Gas Cylinder Trolley, Single Gas Cylinder Trolley, Double Gas Cylinder Trolley, Warp Beam Trolley, Hydraulic Power Packs, Hydraulic Cylinders, EOT Crane, EOT Crane, Wire Rope Hoists, Material Lifting Cranes, Cranes, Industrial Cranes, Wall Mounted Jib Crane, Pillar Mounted Jib Crane, Hydraulic Jib Crane, Hydraulic Jib Crane, Jib Crane, Automobile Jib Crane, Platform Trolley, Platform Trolley, Sack Trolley, Hand Platform Trolley, Steel Platform Truck, Turn Table Platform Trolley, Beam Trolley, Three Wheel Drum Lifter Trolley, Scissor Lift, Scissor Platform Table, Hydraulic Scissor Lift, Fixed Type Scissor Lifter, Movable Scissor Lifter, Scissor Lift Table, Electric Operated Scissor Lift, Scissor Lift, DC Operated Scissor Lift, Battery Operated Scissor Lift, Paper Roll Loading Scissor Lift, Current Operated Stacker, Hydraulic Lifting Table, Hhydraulic Pallet Truck, Manual Pallet Truck, Materiel Handling Pallet Truck.
We supplied our Material Handling Pallet Truck below listed cities and town are Andipalayam, Avanashi, Chengappalli, Chettipalayam, Chinnakkampalayam, Dhali, Dharapuram, Iduvai, Kanakkampalayam, Udumalaipettai, Kanakkampalayam, Kangeyam, Kaniyur, Kannivadi, Karaipudur, Kolathupalayam, Komaralingam, Kunnathur, Madathukulam, Mangalam, Manickapuram, Mannarai, Morattupalayam, Mulanur, Muruganpalayam, Muthanampalayam, Muthur, Neripperichal, alangarai, Palladam, Periakottai, Perumanallur, Poolankinar, Rudravathi, Samalapuram, Sankaramanallur, Sembianallur, Semmipalayam, Sircar Periapalayam, South Nallur, Thirumuruganpoondi, Thottipalayam, Tirupur, Udumalaipettai, Uthukuli, Veerapandi, Velampalayam, Velayudampalayam, Vellakoil, Vellaravalli.